MOTIVATIONAL DOG TRAINING
We believe in a motivational-based training program for you and your beloved pet. Our philosophy is that you, as an owner, can be a trusted "pack leader" in a manner that teaches, supports, and motivates your dog without using fear or intimidation. Learning how to properly use your voice and body movements, while also building confidence, is an integral part of our training program.
WHY DOES THIS WORK?
It is your dog's instinct to want to please you. We believe in changing a dog's behavior by taking teachable moments and creating success while rewarding positive behavior. This is created through three phases that include teaching, practicing, and testing, which leads to a confident dog who believes in him/herself. By combining our expertise in dog training, along with providing compassion and support, you and your pup will be sure to develop a lifelong harmonious relationship.
Motivational Obedience Training
BE HEALTHY. BE HAPPY. BEHAVING.
Group Classes
Clinics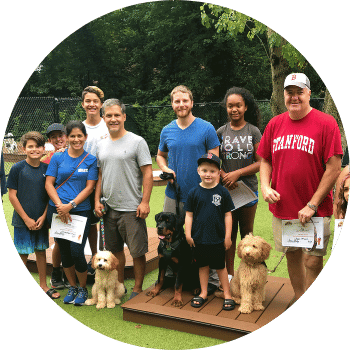 Who is this good for?
For dogs 6 months & older
$100 - 3 classes (50 minutes per week)
Have you noticed more "pull" than "walk" in your daily strolls? You're not alone! Teaching a dog to walk on a loose leash is one of the most difficult behaviors owners must contend with. This class will help you learn the techniques you need to have to walk your dog politely on a leash without pulling, lunging, or dragging and learn not to jump on your family and friends! We will discuss equipment options, training methods, and practice techniques for keeping your dog focused on YOU during your walks.
Upcoming Classes:
TBD

Who is this good for?

For dogs 6 months & older
$100
- 3 classes (50 minutes per week)
The "Here" cue is perhaps the most important one you can teach your dog. It's essential to maintaining good behavior and vital in an emergency. Is it time to leave the dog park? A good rocket recall will save you from exasperating games of chase when it's time to go home. In this clinic, we'll focus on recall games and show you how you can build a solid, reliable recall in a fun and easy way!
Upcoming Classes:
TBD
Personalized Training
What Our Customers Say
We love all of our customers throughout the South Shore, including Brockton, Easton, Mansfield, Stoughton, Taunton, Raynham, Bridgewater, Randolph, Weymouth, Sharon, Boston, Canton, West Bridgewater, Avon, Norton, Foxborough, Lakeville, and more.
Come visit our local Pet Resort in Brockton, MA!