On the first Wednesday of each month, we close PLAYtrain® Doggie Daycare to give our team time to reconnect with our Paw Print Principles, which guide us in our mission to support lifelong harmonious relationships between people and their pets.
As part of our mission, we are dedicated to being experts in our field, offering trusted guidance to pet parents and supporting them through all ages and stages while delivering 360° of Happy Health® to their beloved pets. We are also committed to empowering our team members to build careers in animal care where they feel valued, inspired, and live in a culture of recognition and growth.
Our monthly Day of PAWS is just one way that we put our mission into action – by giving our staff time to participate in professional development, train new team members, and develop and improve on the processes we use to care for your fur-babies!
Want to know more about what we do at the Resort on Wednesdays when your pooch stays home from PLAYtrain®? Here's the inside scoop on how we use our monthly Day of PAWS to stay connected to our Mission and Paw Print Principles.
Hiring and Training
We are always focused on growing responsibly. An important part of that is adding top talent to our staff without overwhelming our existing team members.
As any manager or leader knows, the process of interviewing, onboarding and training new team members takes time! We put a high priority on training, especially when it comes to the health and safety of the animals staying with us. It's important that our team leaders can dedicate attention to teaching and empowering their staff, amid their other daily duties.
Our monthly Day of PAWS allows our Managers and Team Leads to dedicate time to hosting working interviews, onboarding new hires to our standards for animal care, and training team members with hands-on practice for the skills and requirements of their roles.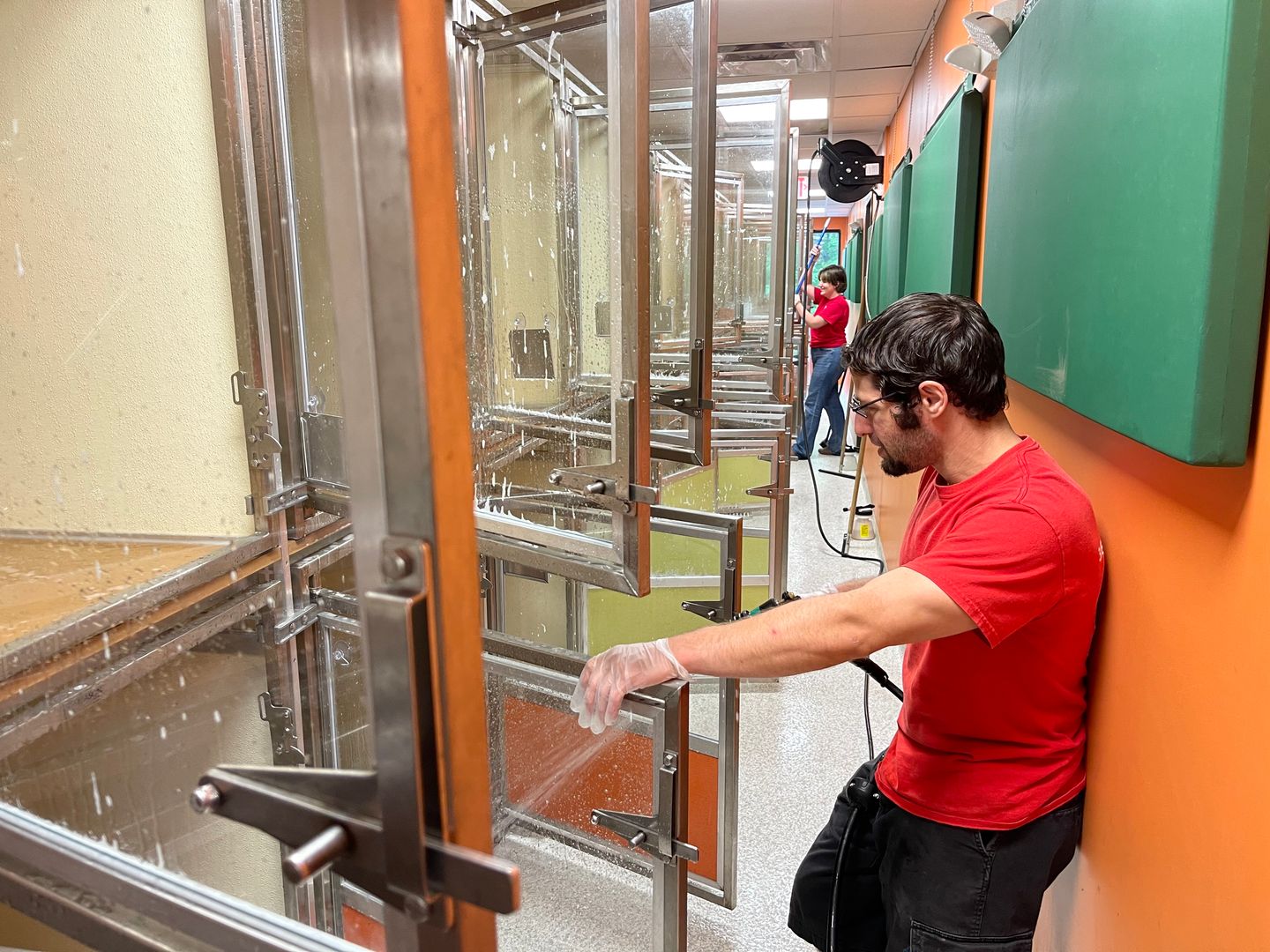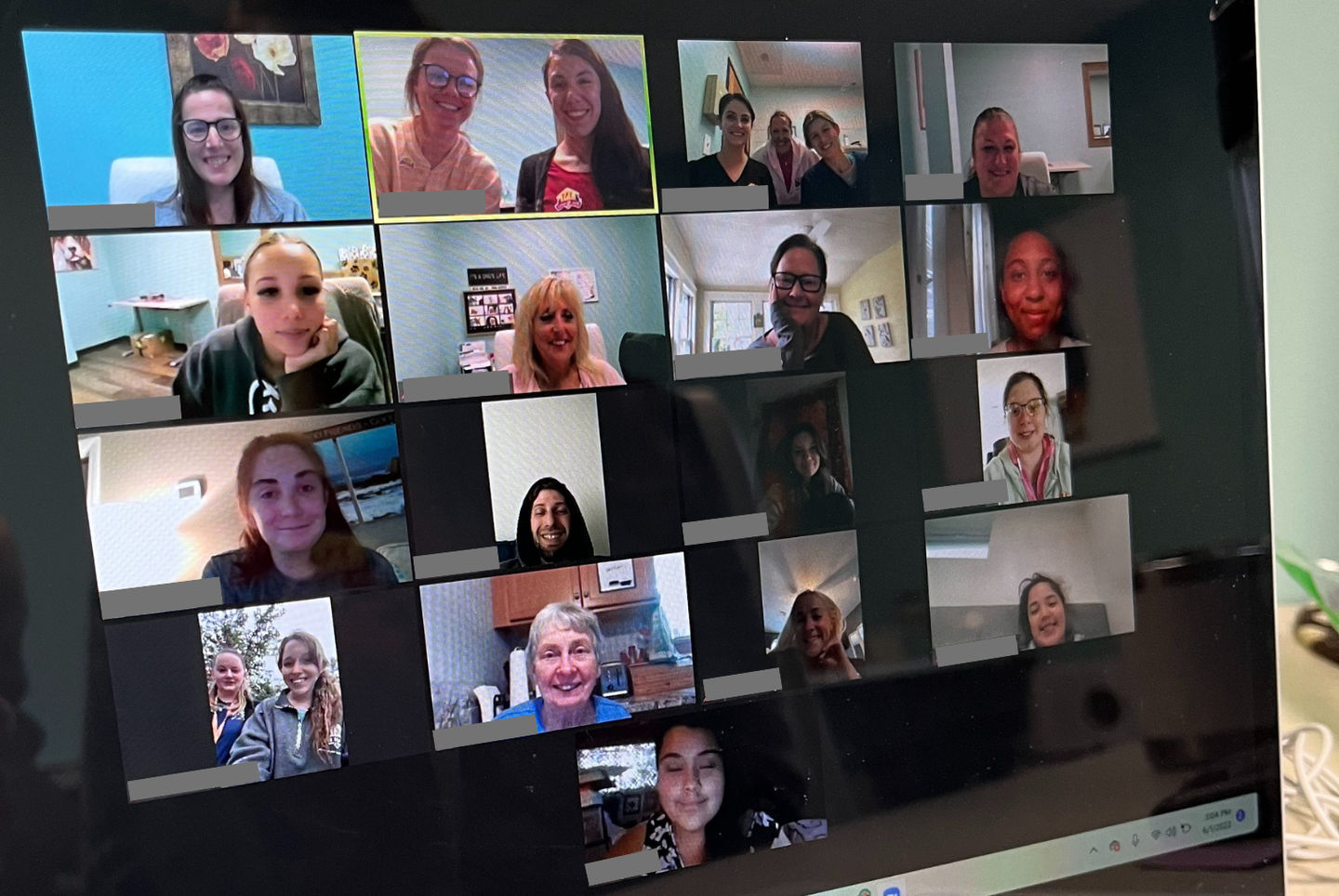 Operations and Processes
One of our Paw Print Principles is taking excellent care of our Resort, because keeping our facility operating at its best is what allows us to perform all of the services that deliver 360° of Happy Health® for your fur-babies! Taking care of our Resort means not only cleaning and maintaining the building, but also giving attention to our processes and communication between teams.
In order to streamline operations and keep everyone aligned across our Resort and Clinic teams, we use our monthly Day of PAWS to schedule company-wide management meetings. This includes time for refreshing internal documentation, implementing and reviewing our latest safety procedures and policies, and sharing ideas for new ways to improve.
Gathering all of our managers and team leaders in one place is a valuable opportunity to share knowledge and perspectives, give and receive feedback, and keep our procedures relevant and up-to-date. We are continuously evolving our processes to make our facility the best it can be, and offer the highest quality of care to pets and pet parents. These meetings help us keep all teams on the same page, give our staff an active voice in shaping and growing our processes.
This helps us to keep all teams on the same page, working together to deliver 360° of Happy Health® across all aspects of your fur-baby's health and wellness.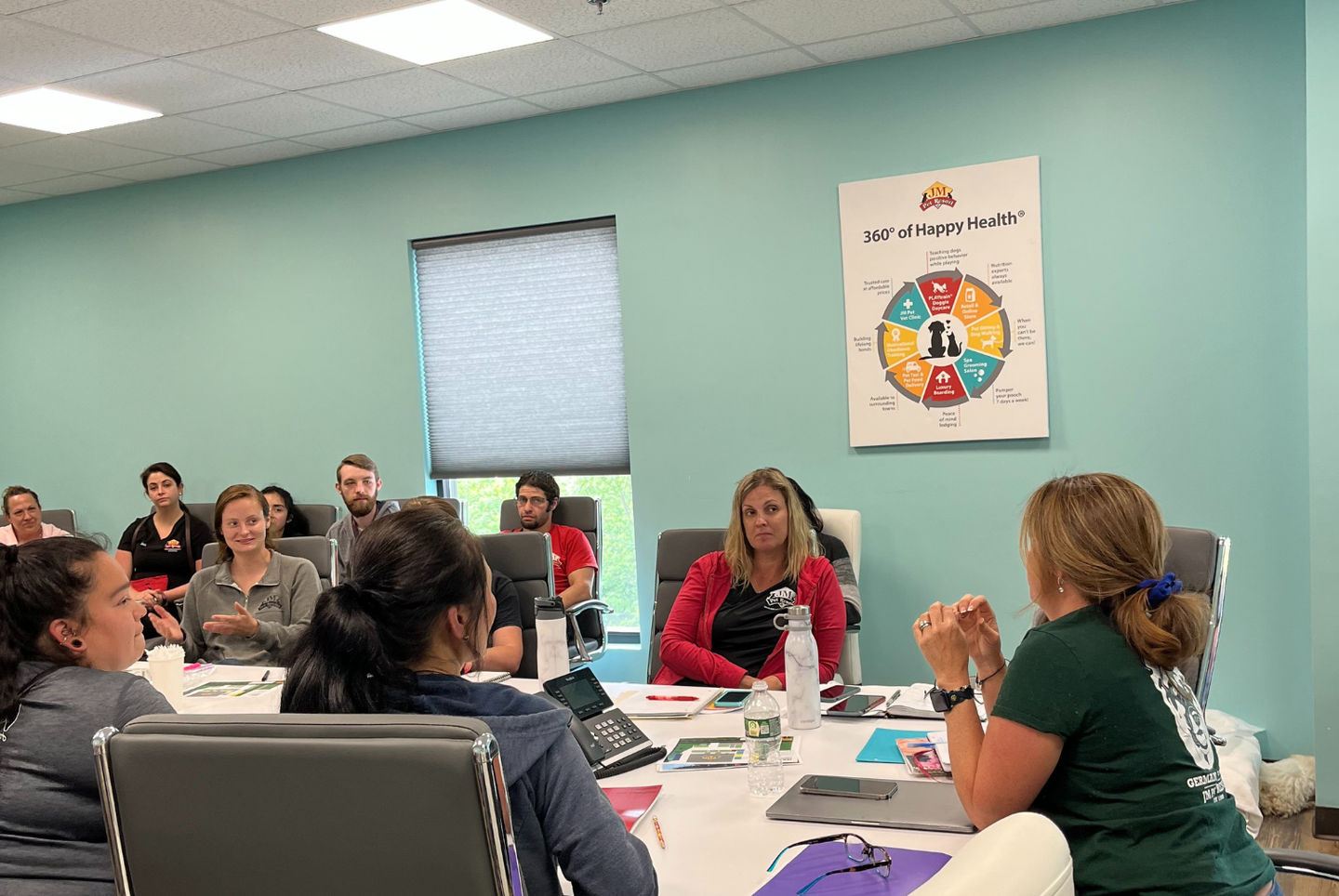 Deep Cleaning and Maintenance
While cleaning is part of our daily routine (multiple times throughout the day!), our monthly Day of PAWS allows us to tackle more focused cleaning tasks and essential maintenance across different areas of the building.
On these Wednesdays, you'll see our team members deep cleaning our luxury lodging suites, kitchens, hallways, and more. With fewer daycare dogs (monthly members and boarding pups still get to PLAYtrain®!), our team can cleanse and sanitize the K9 grass in our play yards, the floors of PLAYtrain® Park, as well as climbing structures and doggie pools that your pups use during the week! We also use these days to do thorough cleaning in our human-centered spaces – including offices, laundry rooms, kitchens, and storage rooms.
Having fewer dogs in the building means our maintenance team can conduct repairs and improvements without causing disruption to the pets staying with us. This includes inspecting and maintaining all of our animal enclosures, fencing, plumbing, and more.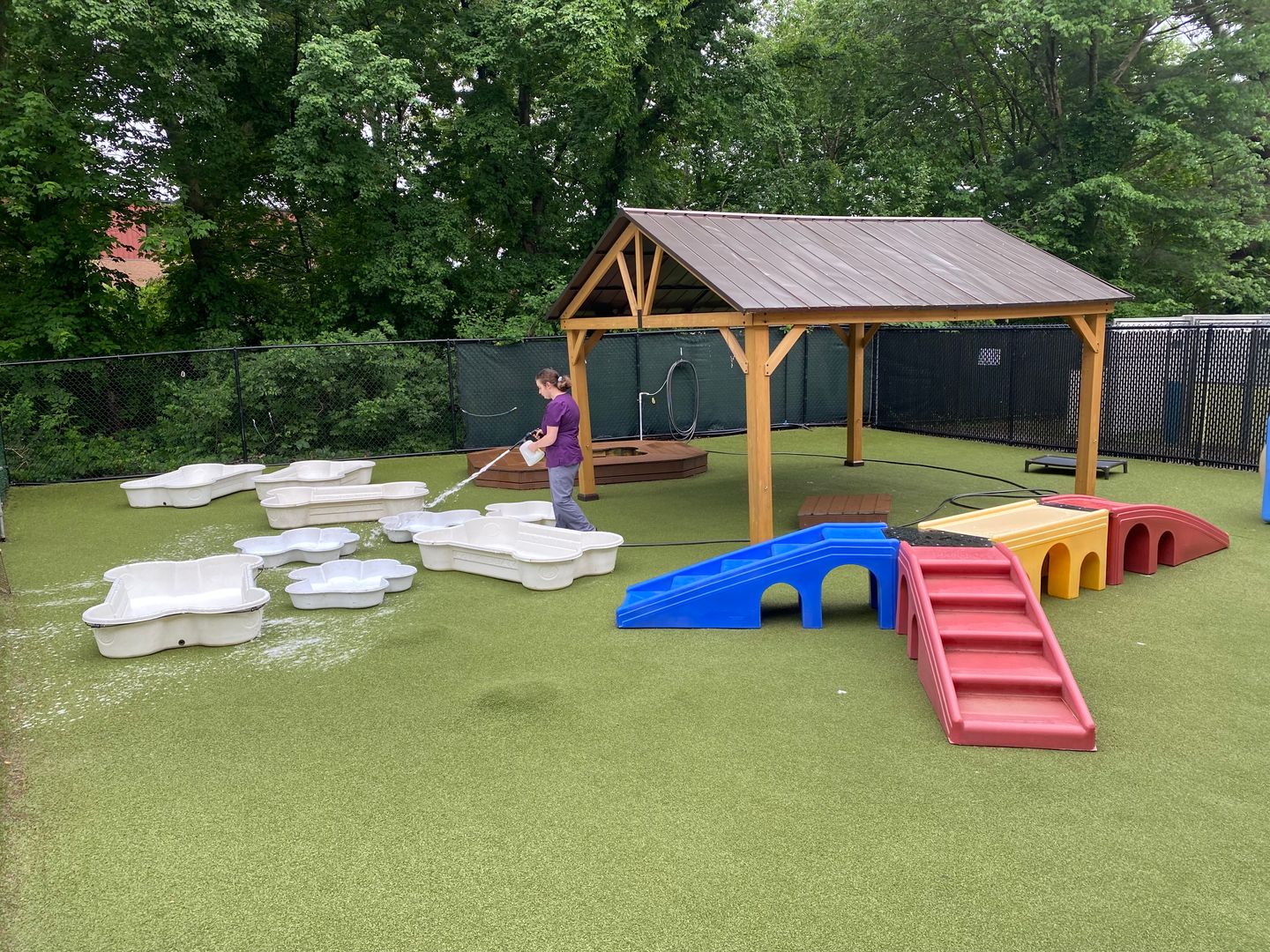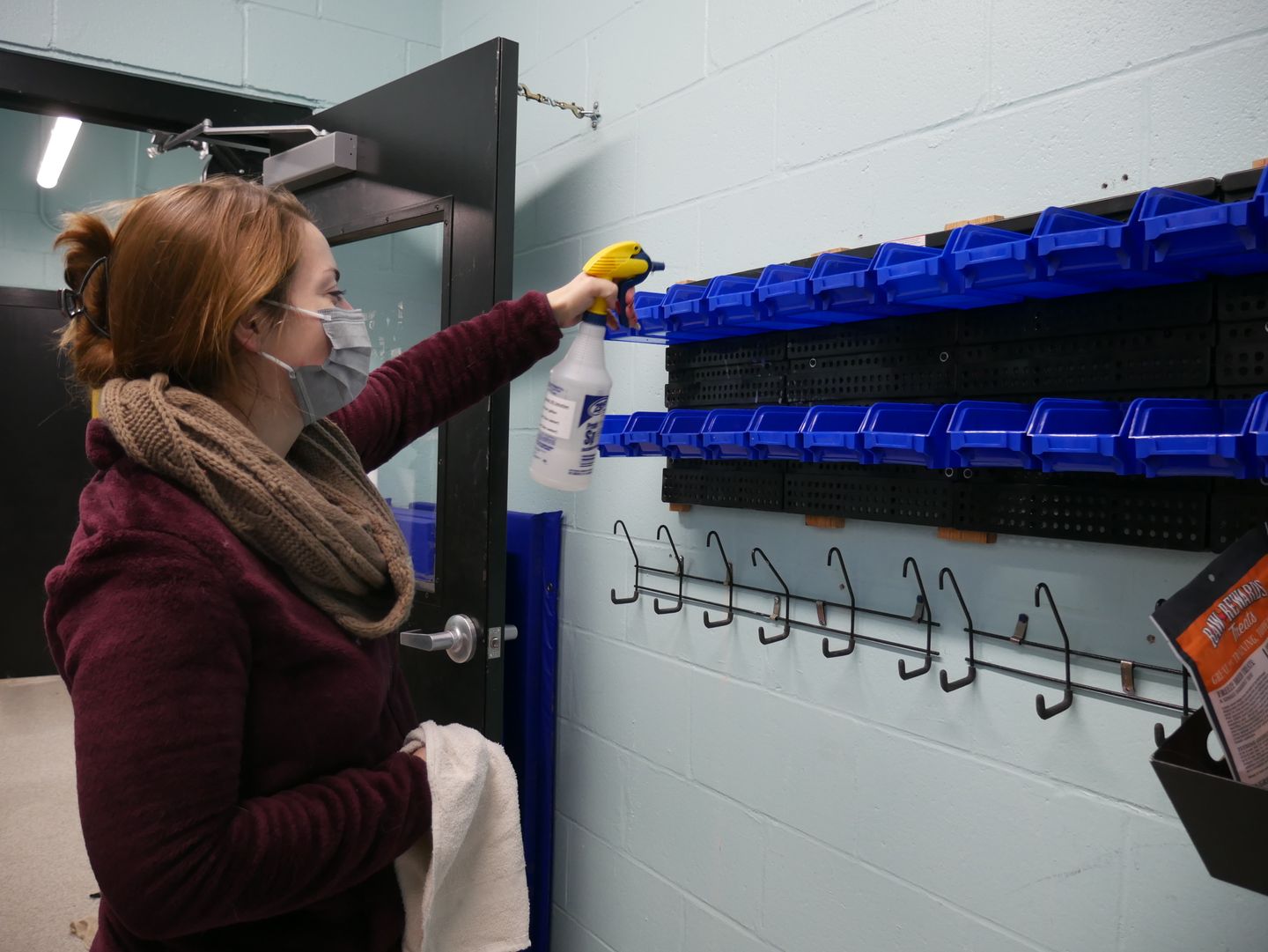 Our Commitment to You and Your Fur-babies
Our monthly Day of PAWS is an investment in our team and in YOU, our two-legged and four-legged clients. Closing PLAYtrain® Doggie Daycare for one day each month is an example of how we put our Paw Print Principles into action, and help our teams stay connected to our shared mission to support your lifelong relationship with your pets. We are incredibly grateful to our clients for supporting us in this each month, and allowing our team time to keep us operating at our best for you and your fur-babies.