Just like working on brain games keeps your mind sharp and helps ground your emotions, solving puzzles is good for your fur-baby's brain, too!
Puzzles are a form of "enrichment," which refers to any activity that challenges and exercises your pet's brain. Enrichment activities include snuffle mats, lick mats, puzzle toys, Kongs, slow feeders, and other games that require your pet to use their brain (usually to find food).
Mentally-stimulating toys are not only great for keeping your fur-baby busy (at least until you finish that Zoom meeting), but they also support 360° of Happy Health® for your pet by contributing to their physical, mental, and emotional wellness. Solving puzzles, and feeling the reward of "winning" their food, helps dogs and cats build confidence, develop problem-solving skills, and keep their minds sharp as they age.
Because enrichment activities require focus and mental energy, they can be extremely helpful for easing separation anxiety, calming nerves, and helping active pets release energy. Many of our JM team members use enrichment toys with their own dogs and cats for these very reasons.
Looking for ideas to give your pup or kitty some enrichment? Take it from us – and our fur-babies! Below, meet some of our JM crew's four-legged family members, and learn about their favorite enrichment toys and treats.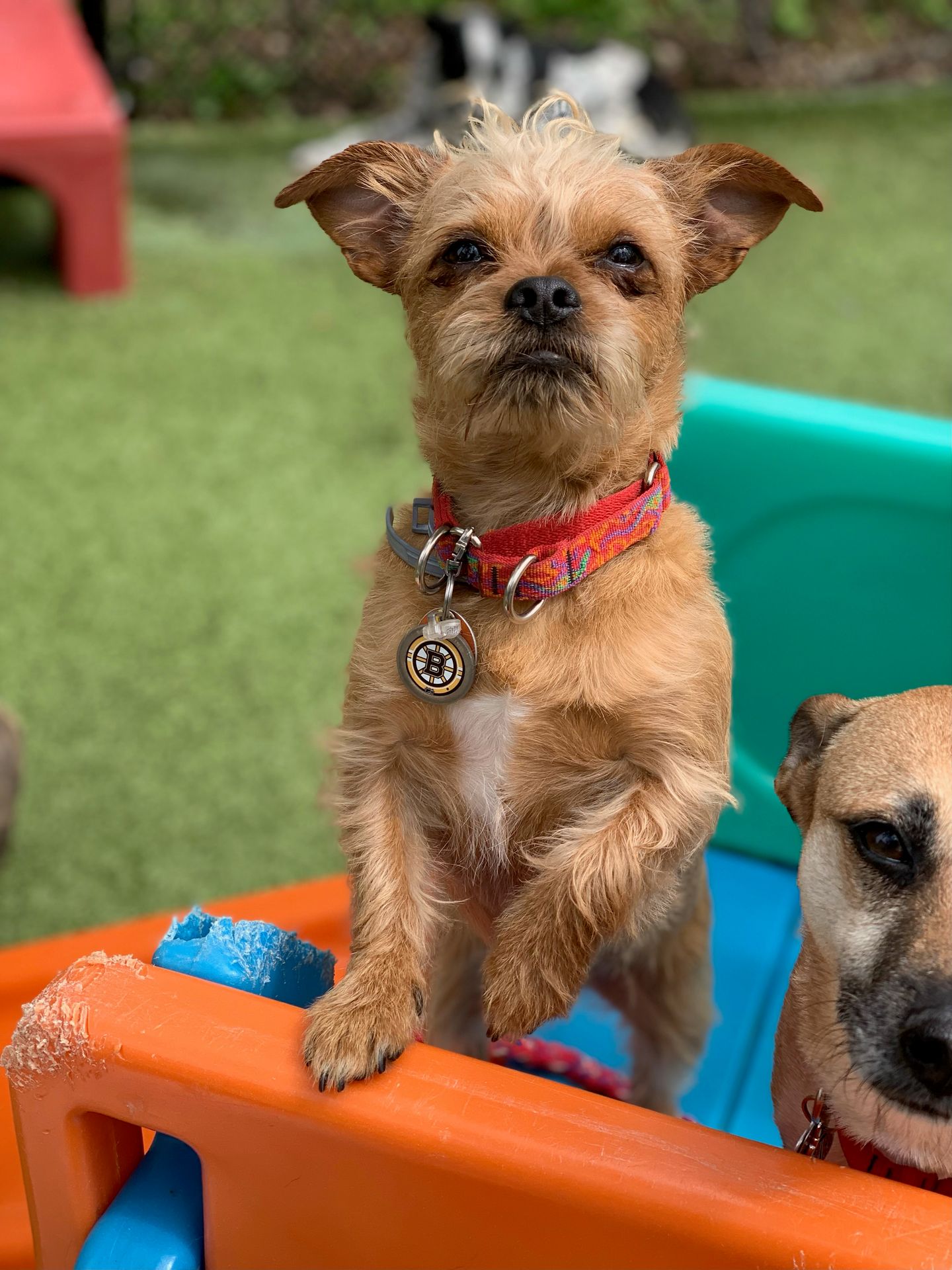 JM Rockstar:

Erin, Kennel Lead
Fur-baby:

Fergal
My dog Fergal has tons of energy! On top of playing at daycare, he needs a lot of mental stimulation. Fergal has tons of toys from JM, but his two most interactive are his Salad Bowl Snuffle Mat (which he eats dinner out of) and his West Paw Toppl! When Fergal is anxious, or after a long structured hike, we will give him either the snuffle mat to get him foraging for his food or his Toppl so he can lick and relax. With our Toppl, we use wet food, plain Greek yogurt, or pumpkin. He has even tried some half-thawed raw food in his Toppl. I notice an immediate change in his behavior after using these tools. They help to relieve Fergal's stress and anxiety, as well as calm him down when he is hyper. Out of all the products I've purchased at JM, these two are my biggest recommendations because they have changed our lives!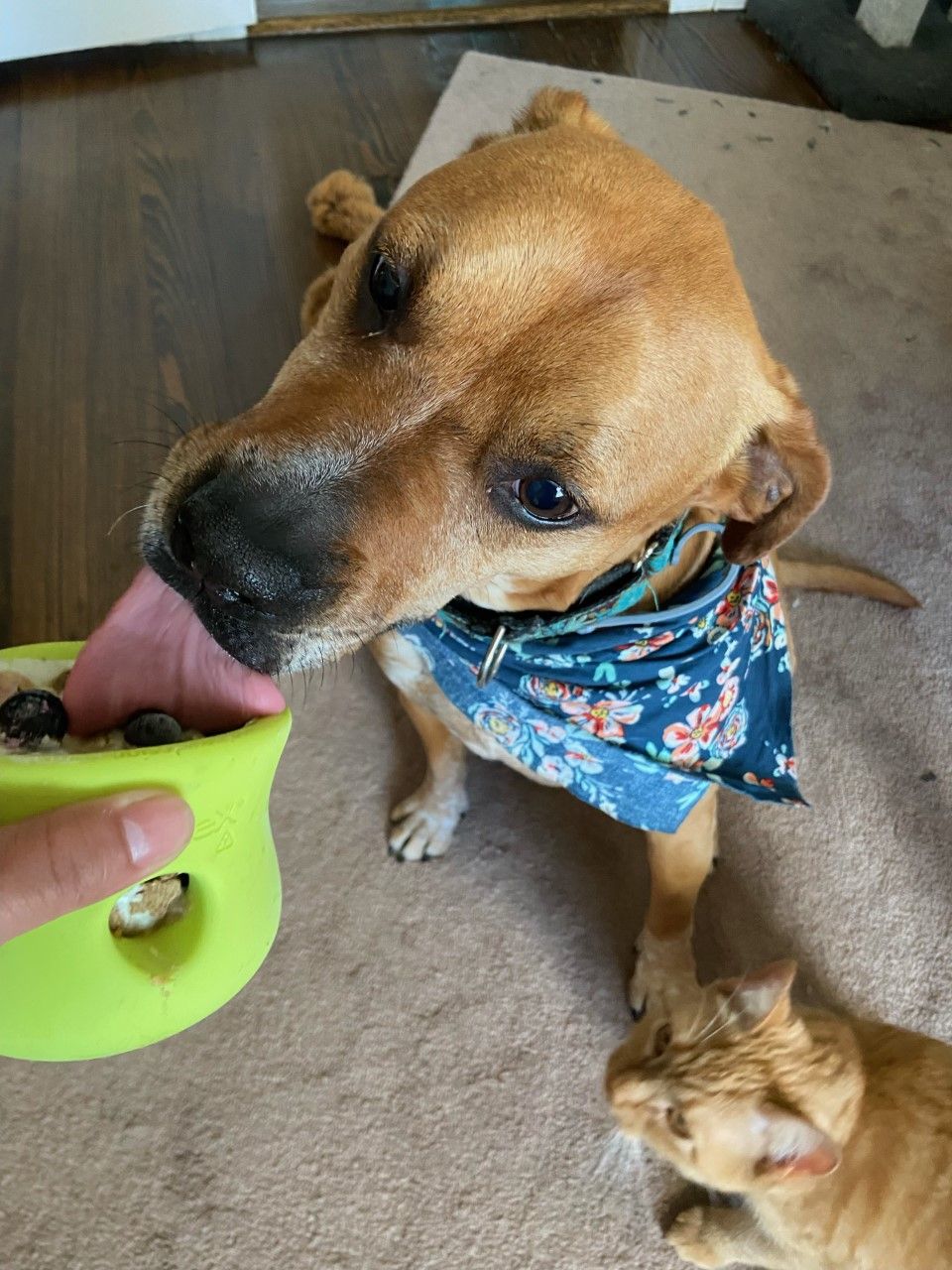 JM Rockstar:

Jess, Health4PETS® Liaison
Fur-baby:

Charlie
Charlie loves her West Paw Toppl! I prep it the night before and freeze it with kibble, bone broth, and other special treats. It keeps her busy for a while and mentally tires her out while I am at work.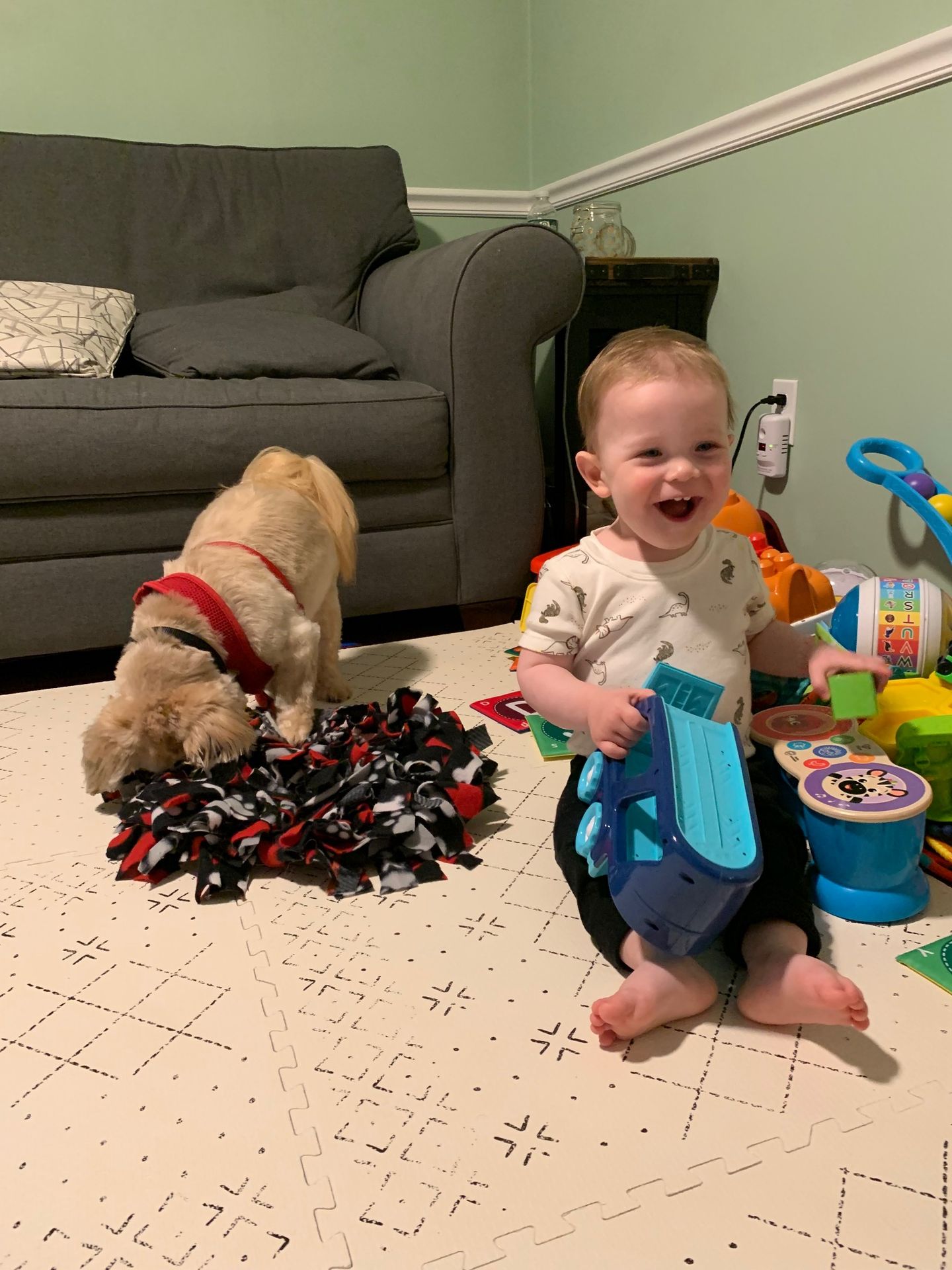 JM Rockstar:

Sarah, Hospital Administrator
Fur-baby:

Brownie
A snuffle mat is a great enrichment activity for your fur-baby, especially with babies or young children in the house. Our dog Brownie loves his fabric snuffle mat. We hide small training treats in it for him to sniff out. It deters him from eating baby toys and causing mischief! It also keeps his mind sharp, and gives him an awesome way to play alongside his human sibling. Everyone is happy. :)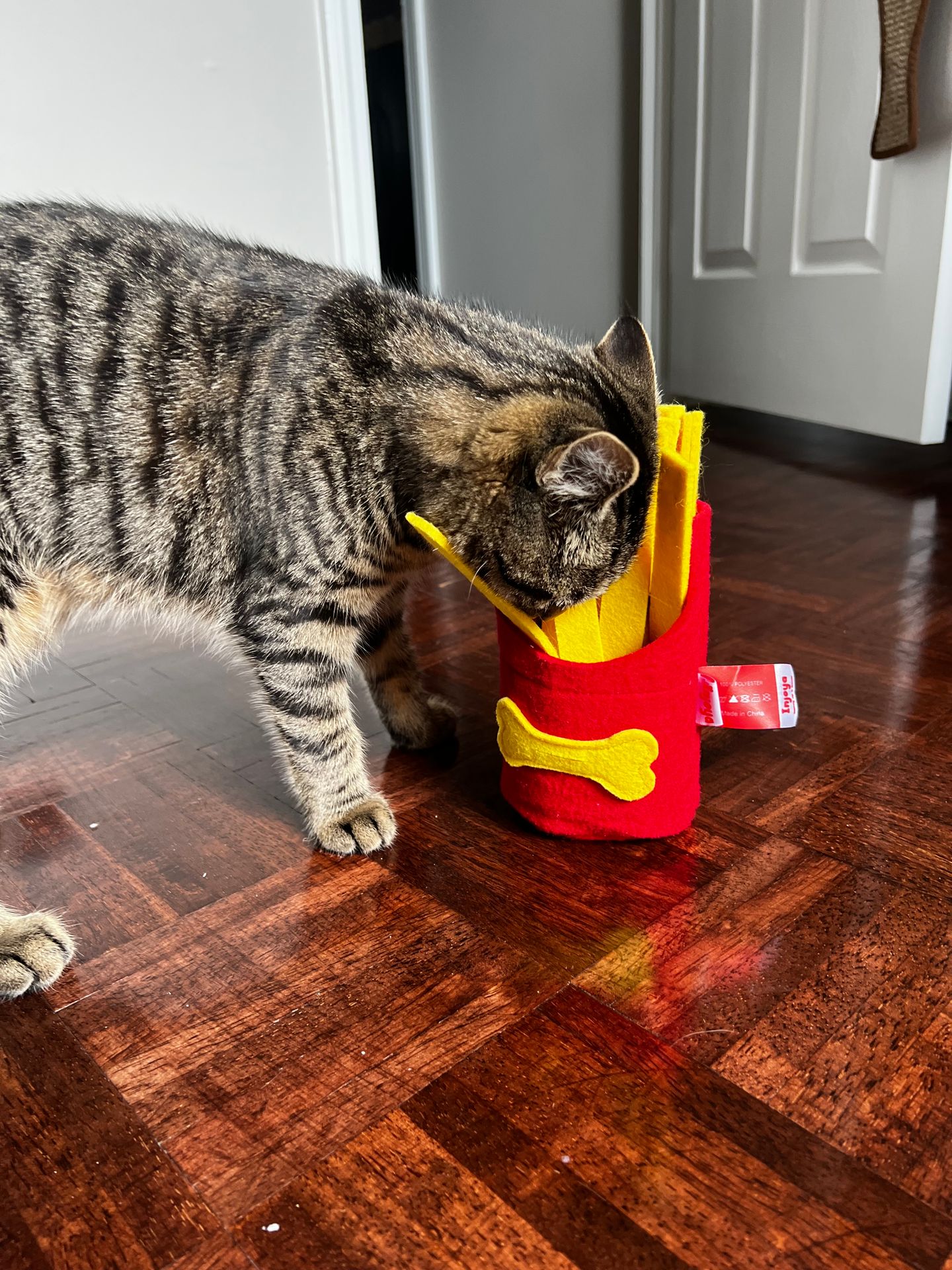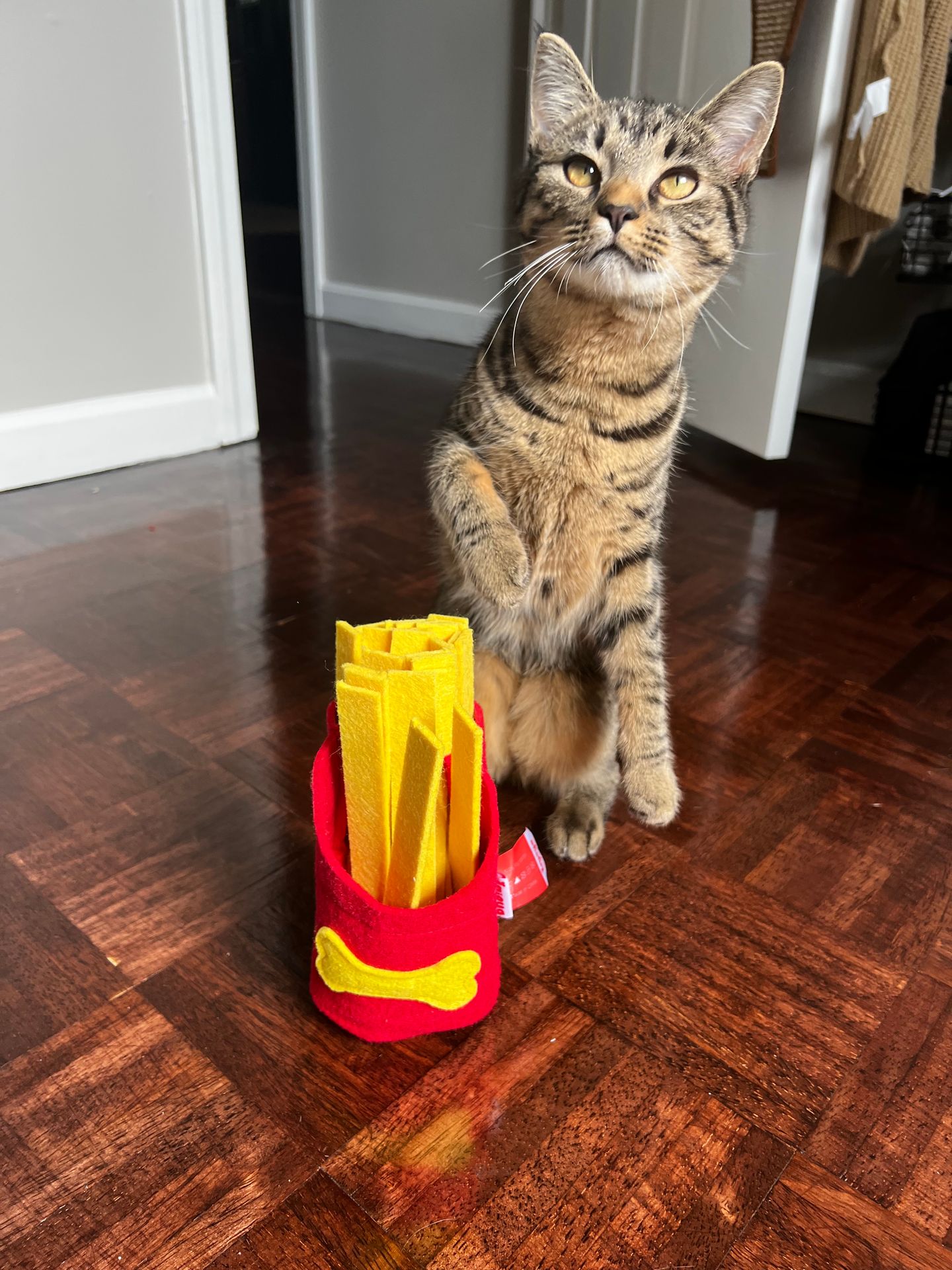 JM Rockstar:

Ally, Social Media Coordinator
Fur-baby:

Chim'kn
Chim'kn is still young and has a lot of kitten energy! We got her the Injoya French Fry Snuffle Toy, and we like to toss yummy cat treats inside it for her to search and find. It keeps her busy when we don't have time to stop and play with her - and helps her let out some energy by working on a fun challenge!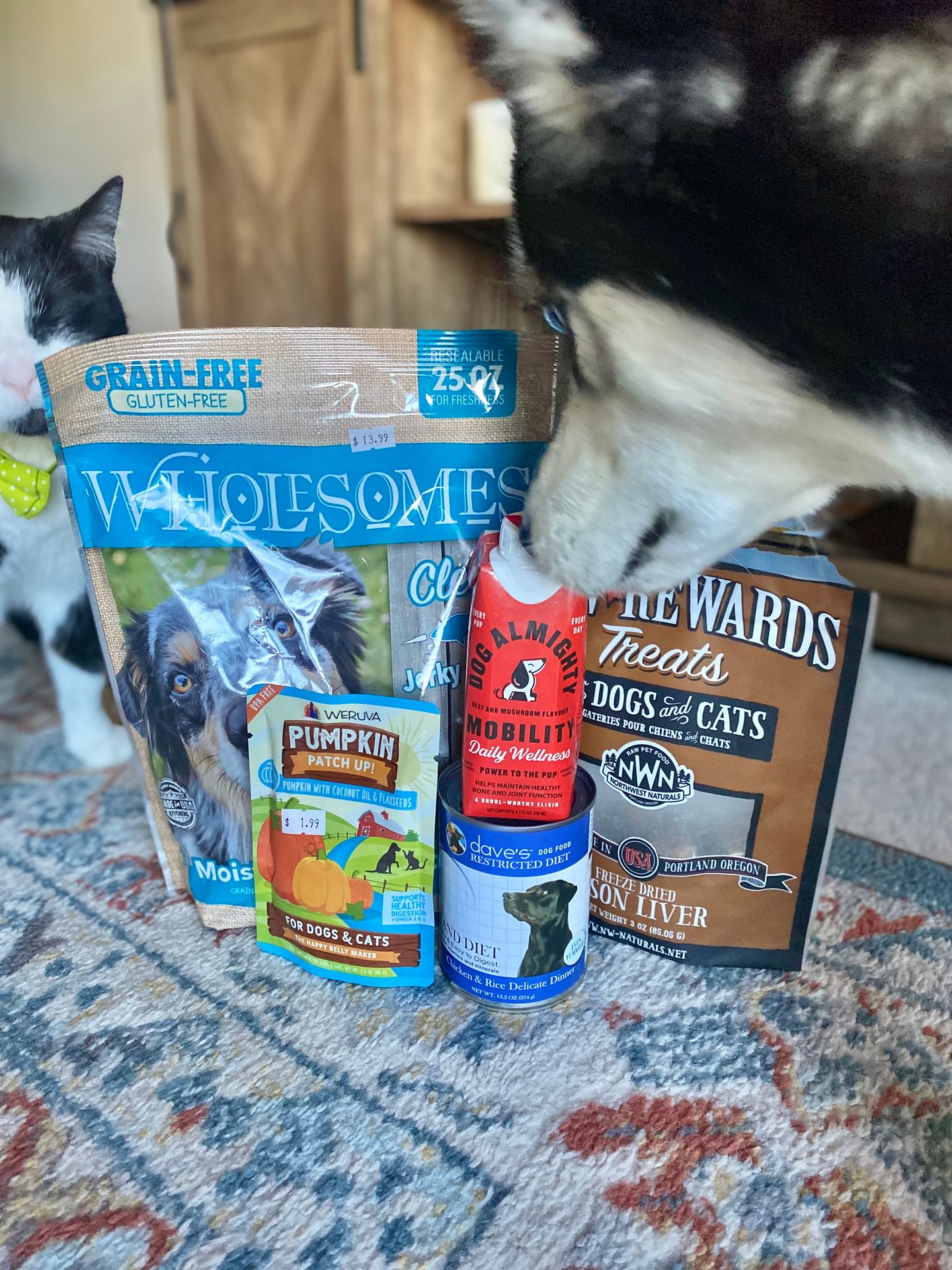 JM Rockstar:

Brittany, PLAYtrain® Manager
Fur-babies:

Lucy (dog), Baxter (cat)
I prep frozen treats for Lucy at the beginning of each week! I like to use a canned food like Dave's Bland Diet, a package of pumpkin purée, goat's milk or bone broth as a topper, and a small or breakable treat - a couple of Lucy's favorites are Wholesomes Cleo's Jerky Sticks and Northwest Naturals Raw Rewards. I combine all of these ingredients onto some lick mats, a Kong, and a silicone ice cube tray and then freeze them all for the week. (Tip: Make your lick mat treats on a plate to avoid spilling during transfer to the freezer!)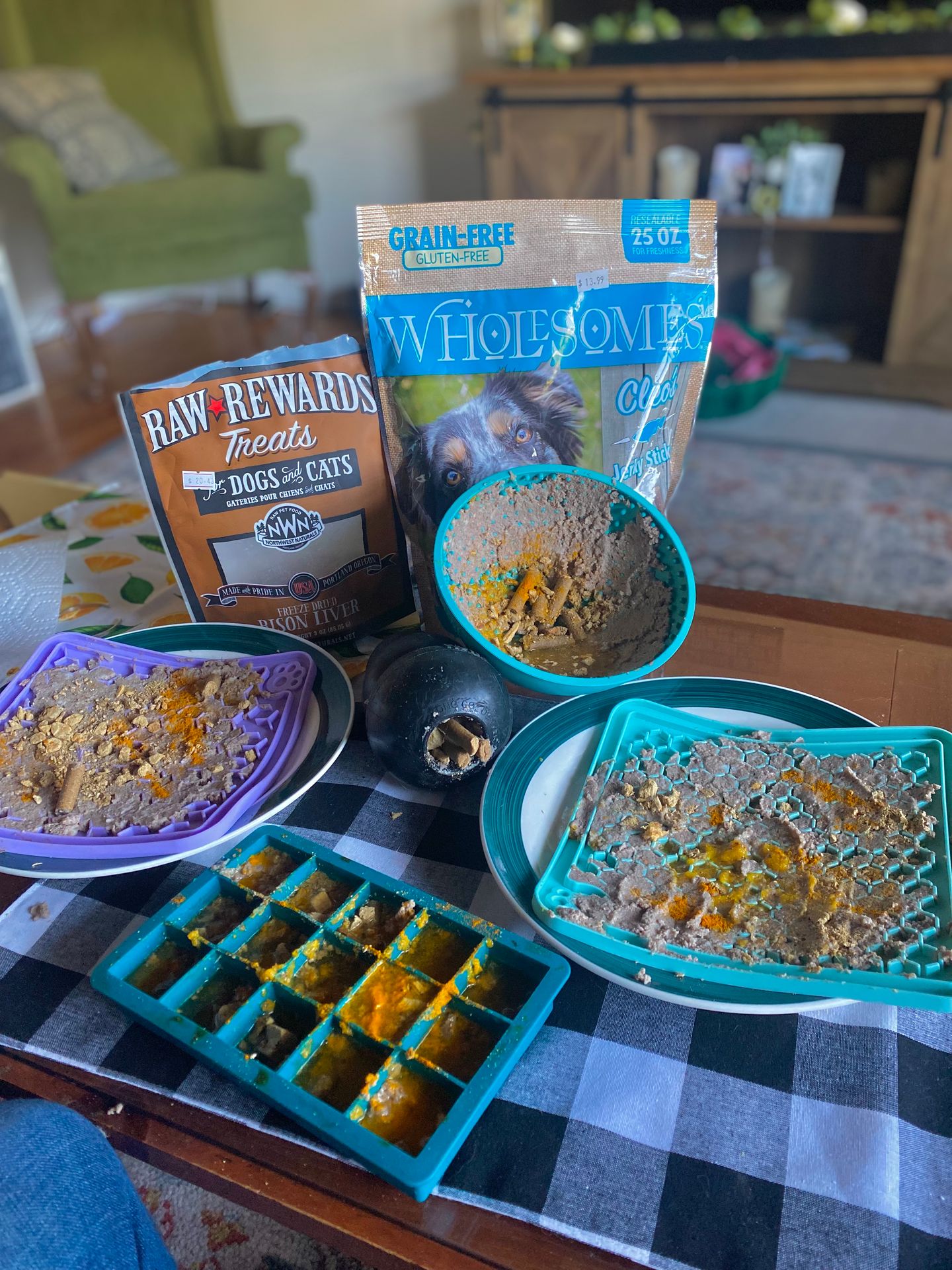 Lucy typically comes to daycare every other day, so these are great treats to have prepped to keep her busy when she's at home with her Dad. The treat-filled Kong can typically keep her occupied for up to an hour! The bone broth or goat's milk ice cubes are a perfect treat for after a walk to help her settle.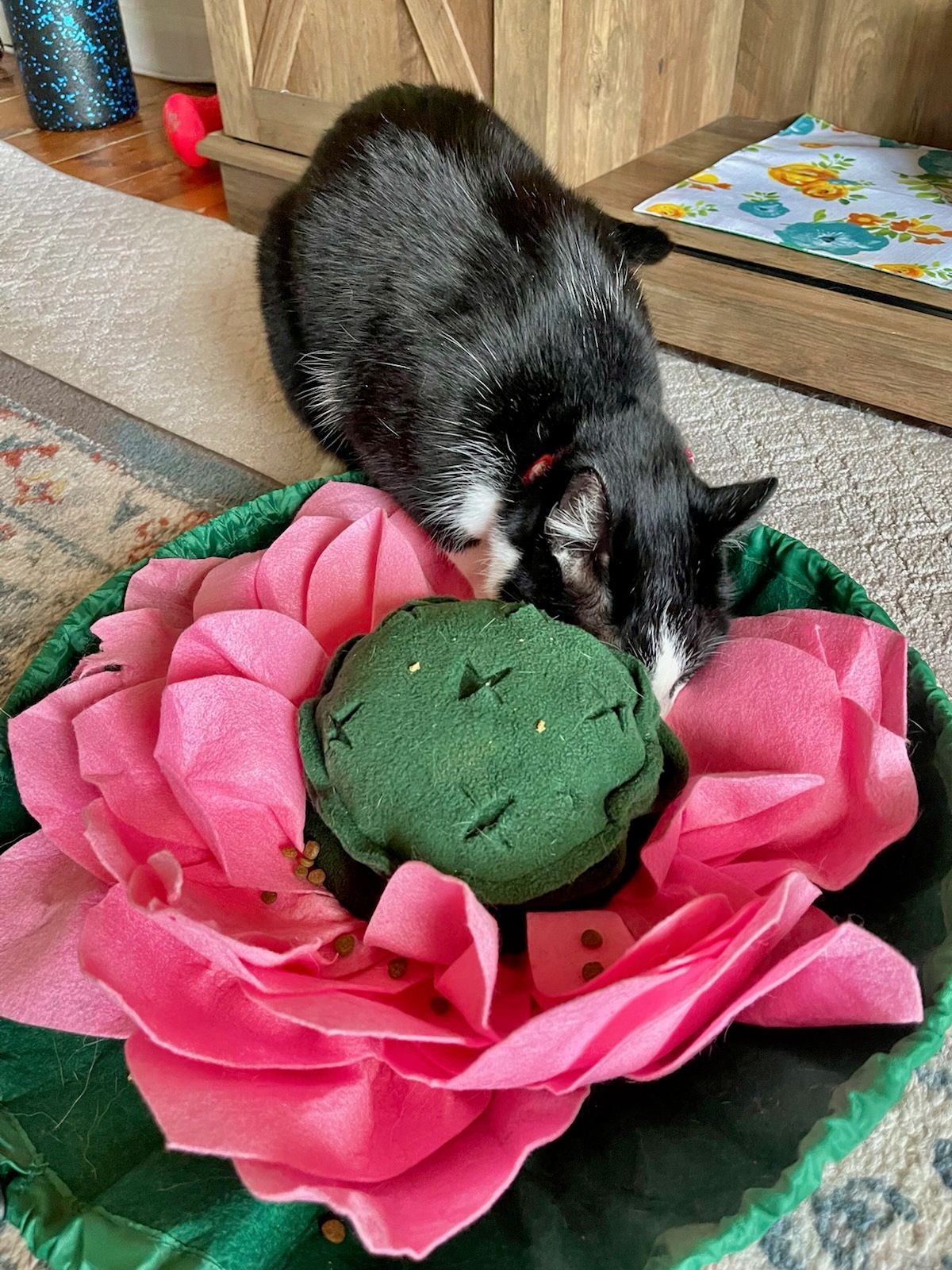 I also use the Lotus Snuffle Mat for my very food-obsessed cat, Baxter. Without a snuffle mat or slow feeding bowl, Baxter will eat so fast he makes himself sick. When using the snuffle mat, it takes Baxter about 10 minutes to eat his dinner!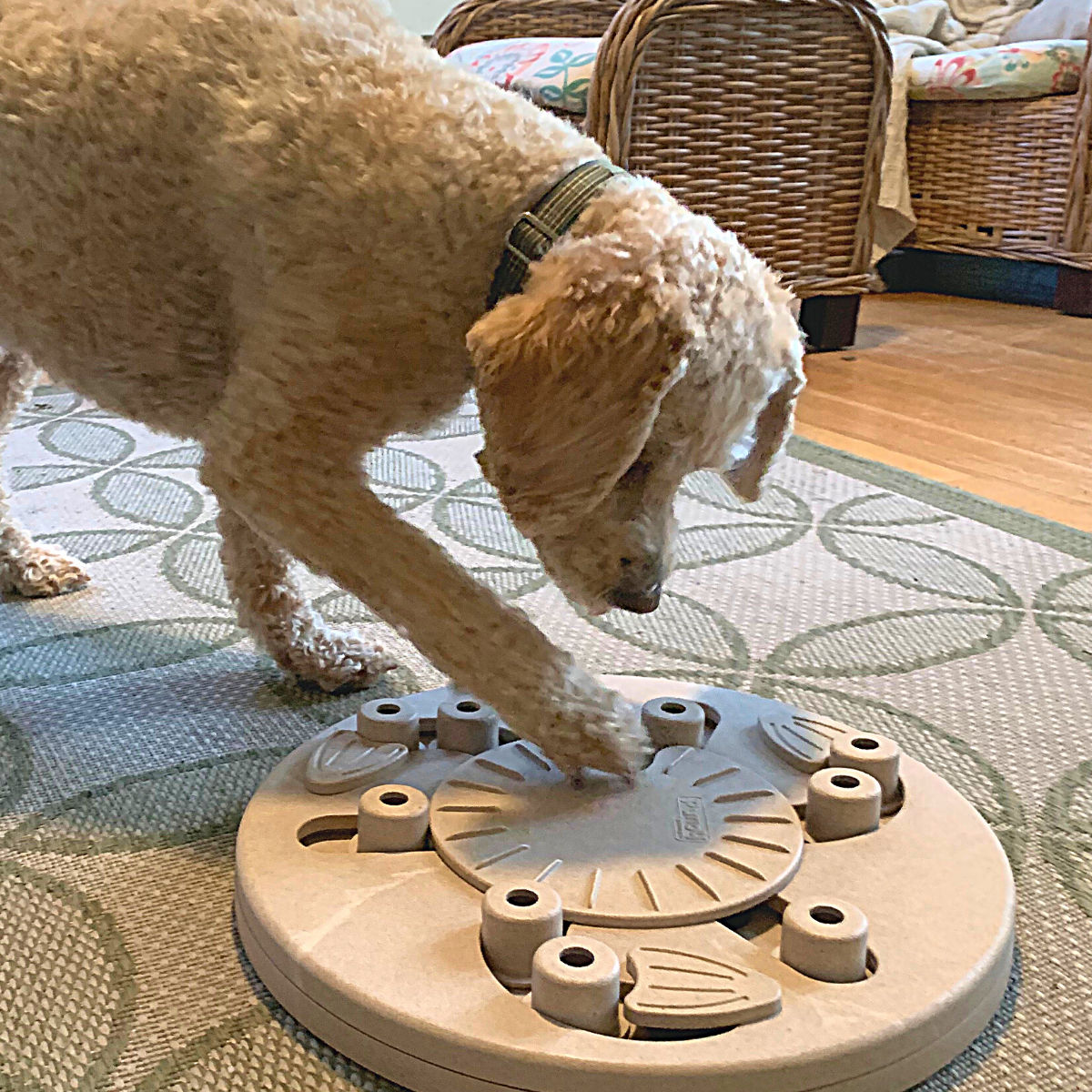 JM Rockstar:

Kathy, Senior Graphic Designer
Fur-baby:

Enzo
I purchased the Outward Hound® Interactive Dog Treat Puzzle for Enzo 2 years ago and he still acts like it's a new toy every time we pull it out for him to play with. He's gotten quite good at it, but it still lasts long enough to fulfill his need for playtime when he's looking to us and we're just not in the mood (LOL)! For him, it never gets old. We typically just fill it with his dog kibble, but we certainly will use treats too! Our family are big fans of interactive dog puzzles and highly recommend getting one (or two) for your favorite furry friends!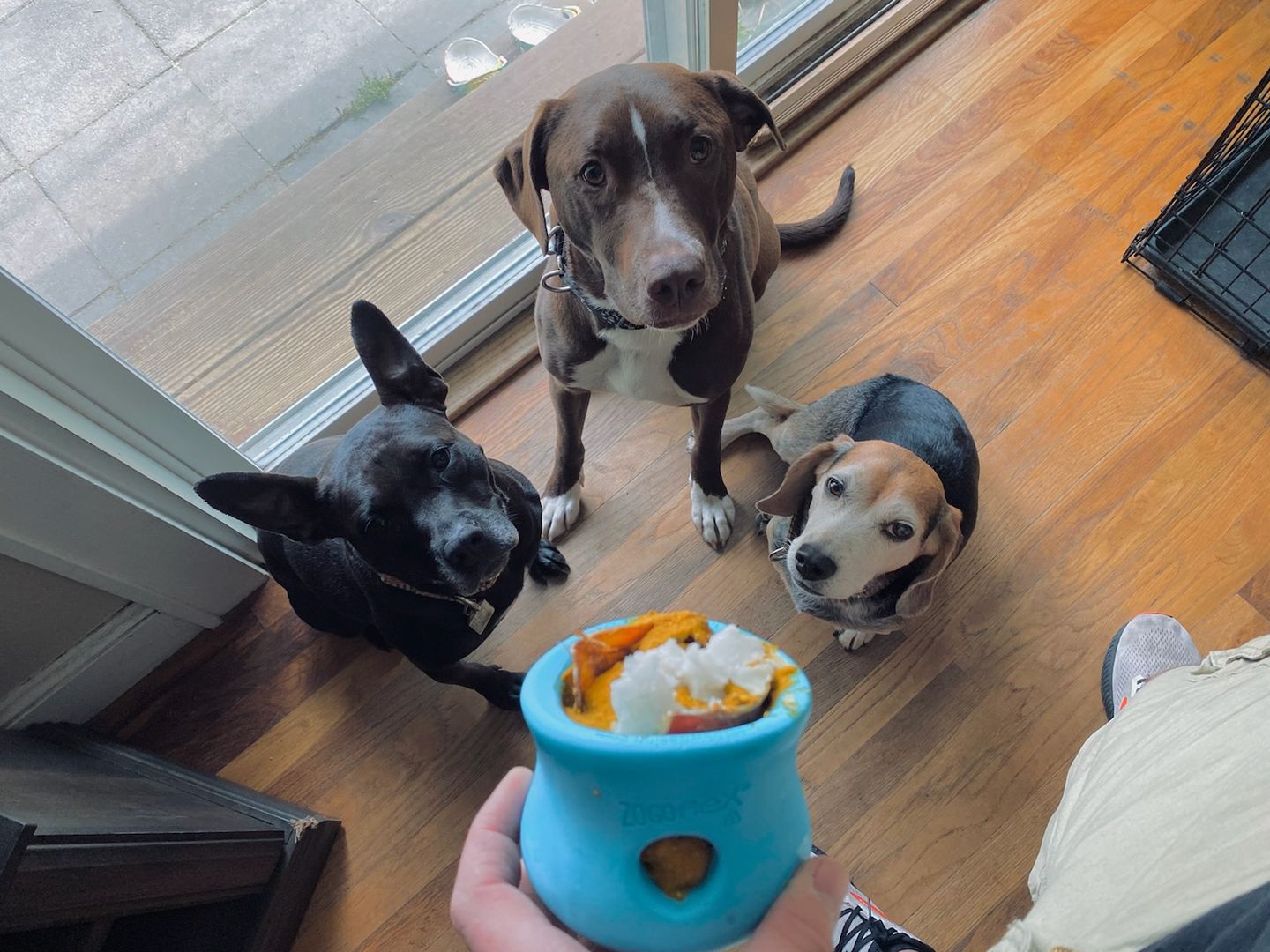 JM Rockstar:

Joselyn, Motivational Obedience Trainer & PLAYtrain® Manager
Fur-babies:

Minx, Lefty, Alfi
My dogs love the West Paw Toppl puzzles! I like to fill the Toppl with a mixture of sweet potato puree, Dave's Bland Diet canned chicken and rice, coconut oil, and a special crunchy treat broken up into small pieces. It gives my dogs something fun to work on during the day to keep them from getting bored. Alfi also struggles with some anxiety, and enrichment toys are a huge help to stimulate his mind and ease his nerves.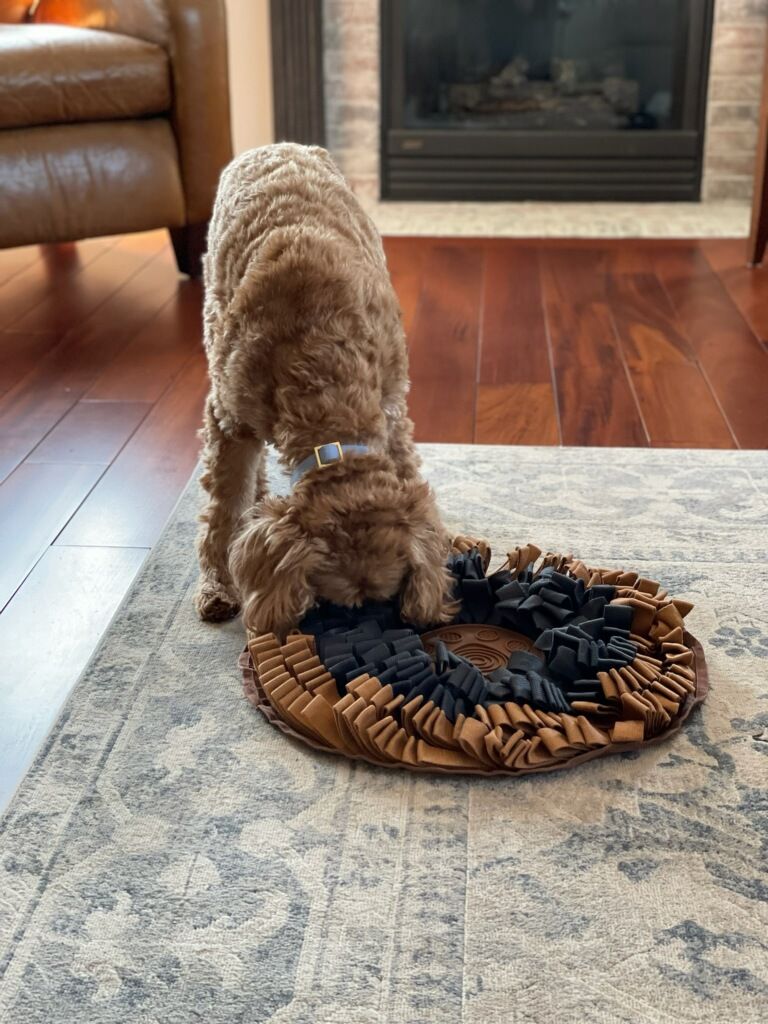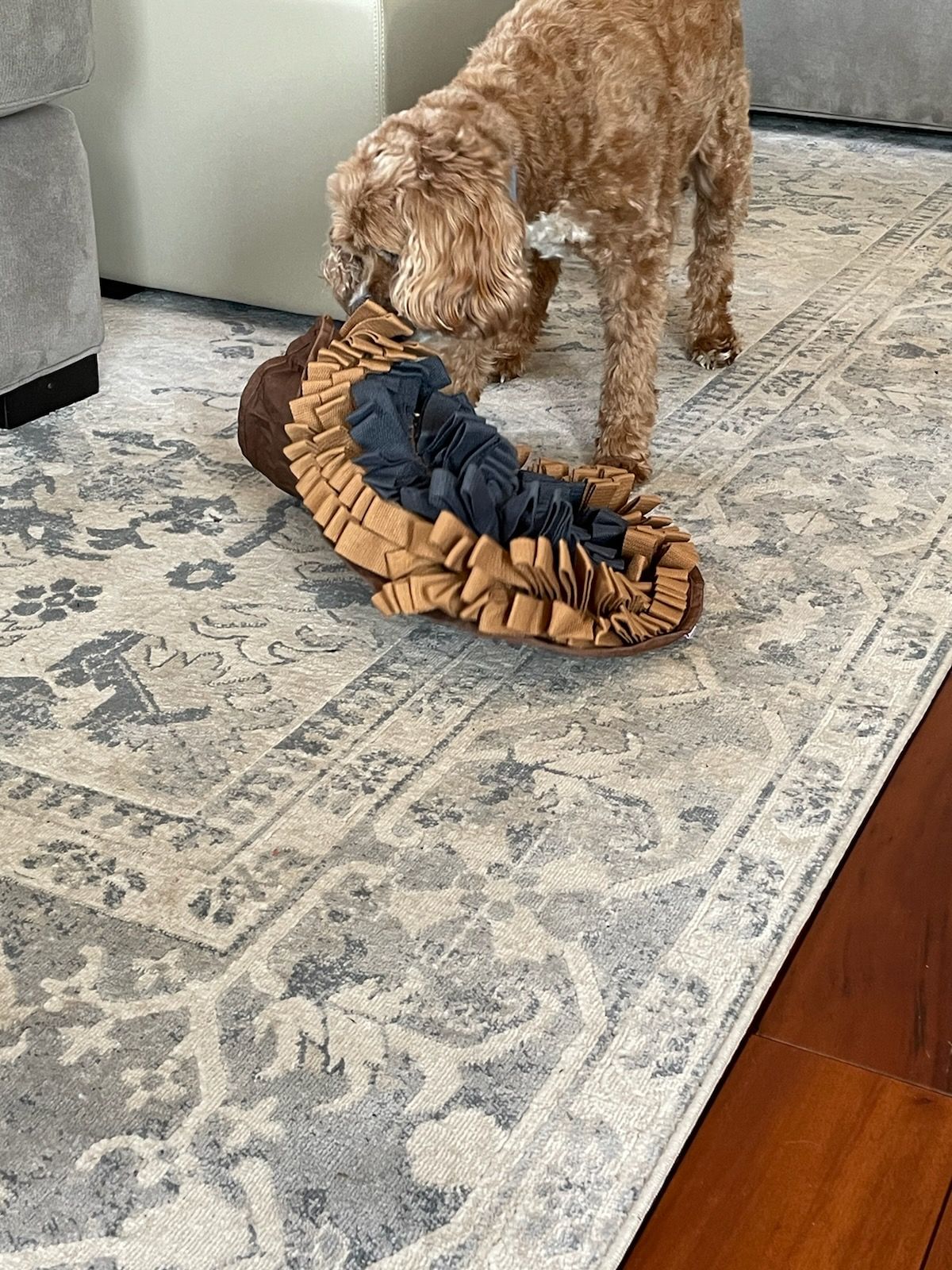 JM Rockstar:

Nancy, Brand Manager
Fur-baby:

Charlie
Charlie loves soft toys and this Snuffle Mat just took it to the next level! Since I've been recuperating from knee surgery, Charlie hasn't had as many walks as he is used to. Getting this enrichment toy was exactly what he needed to keep his mind busy. I hide different kinds of dog treats, carrots, blueberries, and diced apple in the different loops and his nose goes to work!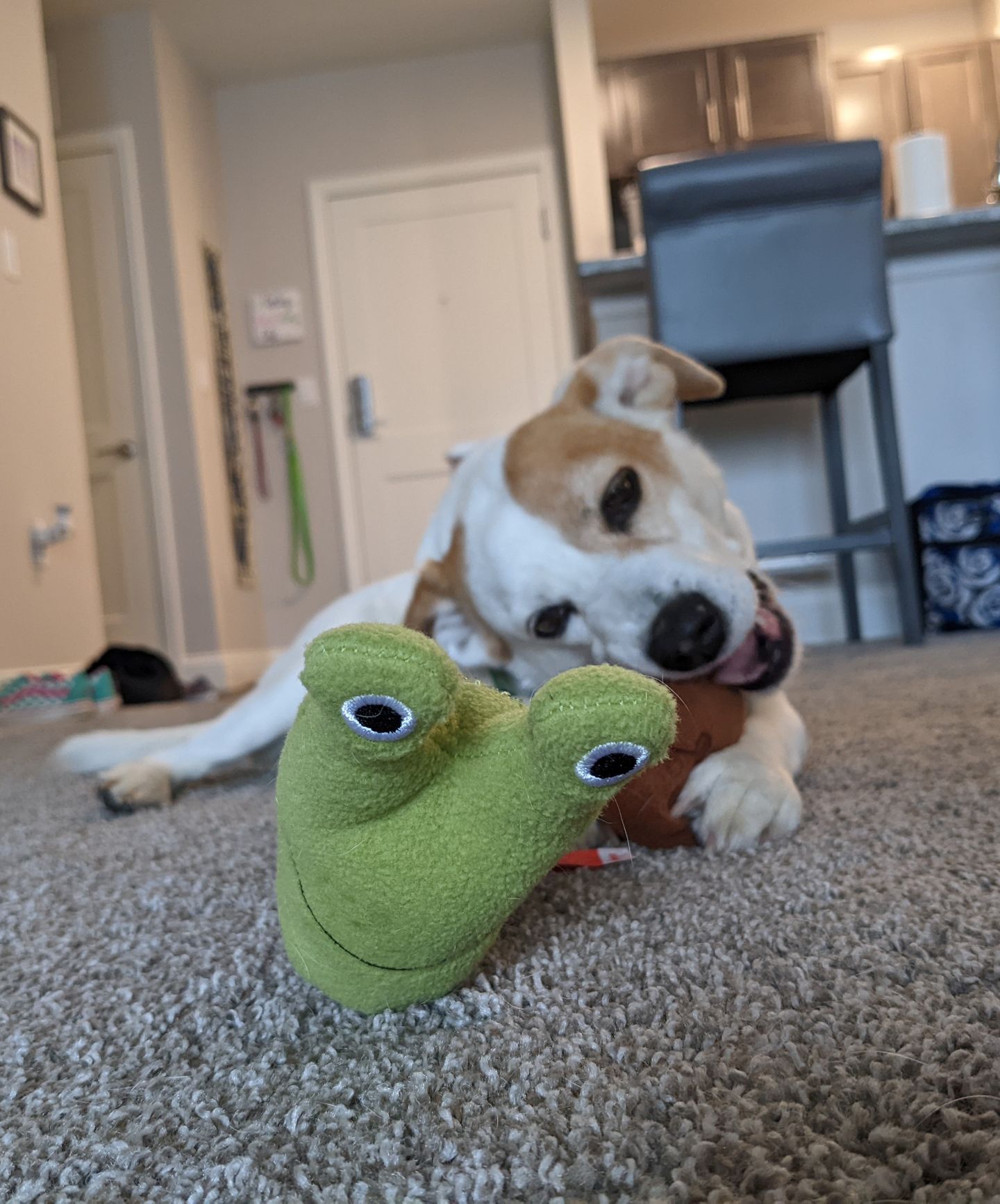 JM Rockstar:

Sam, Content & Communications Manager
Fur-baby:

Sophie
Sophie has mild separation anxiety, and we find that using a puzzle toy for enrichment gives her something to focus on, helps her calm down, and tires her out! After her morning walk, Sophie usually gets breakfast served in a puzzle toy – her favorites are her Snail Rollup Snuffle Mat and her Nina Ottosson puzzle toy. She's a true hound, so she loves any excuse to use her nose and "hunting instincts" to find food. It's a win-win; she thinks it's a fun game and she settles down for a nap right after. If I'm rushing in the morning, and give her breakfast in her regular bowl instead of a puzzle, she'll walk over to where we keep the toys and stare at me like, "You forgot to put it in one of these!"