On August 1 2023, the Ollie's Law Coalition hosted an ACOAM round table meeting at JM Pet Resort in Brockton, bringing together Animal Control Officers from surrounding communities to talk about bill S. 1309/H. 2019, An Act to increase kennel safety, also called "Ollie's Law."
The members of ACOAM spent time learning about how Ollie's Law will protect pets and staff in daycare and boarding facilities. Officers heard from key members of Ollie's Law Coalition including Robin Frechette of State Representative Brian Ashe's office, Jeremy Cohen of Boston Dog Lawyers, Ally Blank of Animal Rescue League Boston, and Jeni Mather of JM Pet Resort.
We need your help to support this much-needed legislation to make dog daycare and boarding facilities safer. Here's what you need to know about what's included in Ollie's Law, what's not included, and how you can help.
What is Ollie's Law?
1309/ H. 2019, An Act to Increase Kennel Safety, aka Ollie's Law, is a piece of legislation that will require safe and fair business regulations surrounding boarding and doggie daycare. Animal and employee safety are of paramount importance for the bill, which has circulated through press conferences, rallies, and State House events over the past three years.
This bill has been carefully crafted and revised by a group of like-minded, diverse individuals who founded Ollie's Law Coalition – named in honor of Ollie, a sweet labradoodle puppy who was attacked at a dog boarding facility and later died from his injuries.
Fast Facts and Common Misconceptions: What You Need to Know About Ollie's Law
The primary change that Ollie's Law introduces is that a business that falls under the existing definition of "commercial boarding or training kennel" or the new definition of a "personal breeder kennel" will need to comply with fair and attainable safety regulations promulgated by the Massachusetts Department of Agricultural Resources (MDAR) to ensure animal and human safety.
An advisory committee will be established consisting of stakeholders from various areas of animal care and expertise – including veterinarians, breeders, boarding and daycare business owners, animal behaviorists, and more – to assist with this process.
What Ollie's Law is NOT:
The bill will not limit business owners that want to operate a daycare or boarding facility for pets

.

Businesses need licenses to be run responsibly. At the moment, the only requirement in Massachusetts states that anyone with more than four dogs (or two, in select towns) is to obtain a kennel license from the city or town. Ollie's Law will require the Department of Agricultural Resources (MDAR), along with a committee of stakeholders, to establish reasonable safety rules and regulations for boarding kennels, daycare facilities, and for "personal breeder kennels," which consist of 5 or more intact female dogs on a single premise, kept for the purpose of breeding and selling the offspring.


The bill will not change the definition of commercial boarding and kennels.


The bill will not change kennel licensing requirements.

The businesses required to obtain a kennel license are already required to obtain a kennel license under current law.




The bill will not make changes to yearly kennel inspections. Animal Control Officers are and will continue to perform inspections and enforce licensing.


The bill will not change the regulation of pet shops, shelters, and rescues. These facilities are and will continue to be regulated by the state.
What Ollie's Law IS:
The bill does make changes to the definition of a personal breeder kennel.
The bill introduces state promulgated health and safety regulations for boarding and kennel facilities.
The bill gives the ability and authority for MDAR to assist Animal Control Officers in addressing problematic cases for regulated kennels.
The bill will enforce injury reporting. Businesses will be required to properly report incidents involving dogs or staff in boarding or kennel spaces that have been opened to investigation and resulted in enforcement action. In the interest of transparency, those injuries that result in enforcement action will be made publicly available.
What's Next?
Ollie's Law Coalition is expecting a hearing in September of 2023. Between now and the date of the hearing, we need your help to voice support of this bill.
How You Can Help Today
We encourage you to write a letter to your State Representatives today urging their support of this bill, using the script provided below. This is particularly impactful if one of your representatives is a member of the Joint Committee on Municipalities and Regional Government.
JM friends in Fall River and East Freetown can reach out to State Representative Carole A. Fiola, Chairperson for the Joint Committee on Municipalities and Regional Government, where the bill currently resides.
JM friends in Brockton can reach out to committee member and State Representative Michelle M. DuBois.
Use This Script to Send a Letter to Your Representative:
Dear Representative [NAME]:
As a resident of Massachusetts, I am writing to urge you to support Bill S. 1309/H. 2019, An Act to increase kennel safety, aka Ollie's Law.
Bill S. 1309/H. 2019 is reasonable, achievable, and necessary to protect the health and safety of pets, employees, and pet owners in Massachusetts. Without safety regulations and oversight, beloved pets will continue to suffer preventable injuries, sicknesses, and deaths at daycares and boarding facilities due to a lack of regulation for the business owners caring for these animals.
Massachusetts pet owners deserve to feel safe when dropping off their animal companions at daycare and boarding facilities, and employees working in animal care facilities deserve to have proper safety precautions and protocols in place. We all deserve peace of mind knowing that pet care businesses are required to follow basic safety regulations to take care of their staff and our animal family members.
I urge you, and the entire Joint Committee on Municipalities and Regional Government, to act now on bill S. 1309/H. 2019 before another pet owner in Massachusetts suffers a preventable tragedy.
Sincerely,
[YOUR NAME]
How You Can Help Prepare for the Ollie's Law Hearing
The Ollie's Law Coalition encourages anyone who works in animal care and welfare, including Animal Control Officers, representatives, and pet business owners to provide testimony during the hearing. You can provide written or spoken testimony (in-person or virtually). We are happy to collect written testimony and get it to the correct channels, or help facilitate where to send your written testimonies.
To get updates about the upcoming hearing, follow along on social media.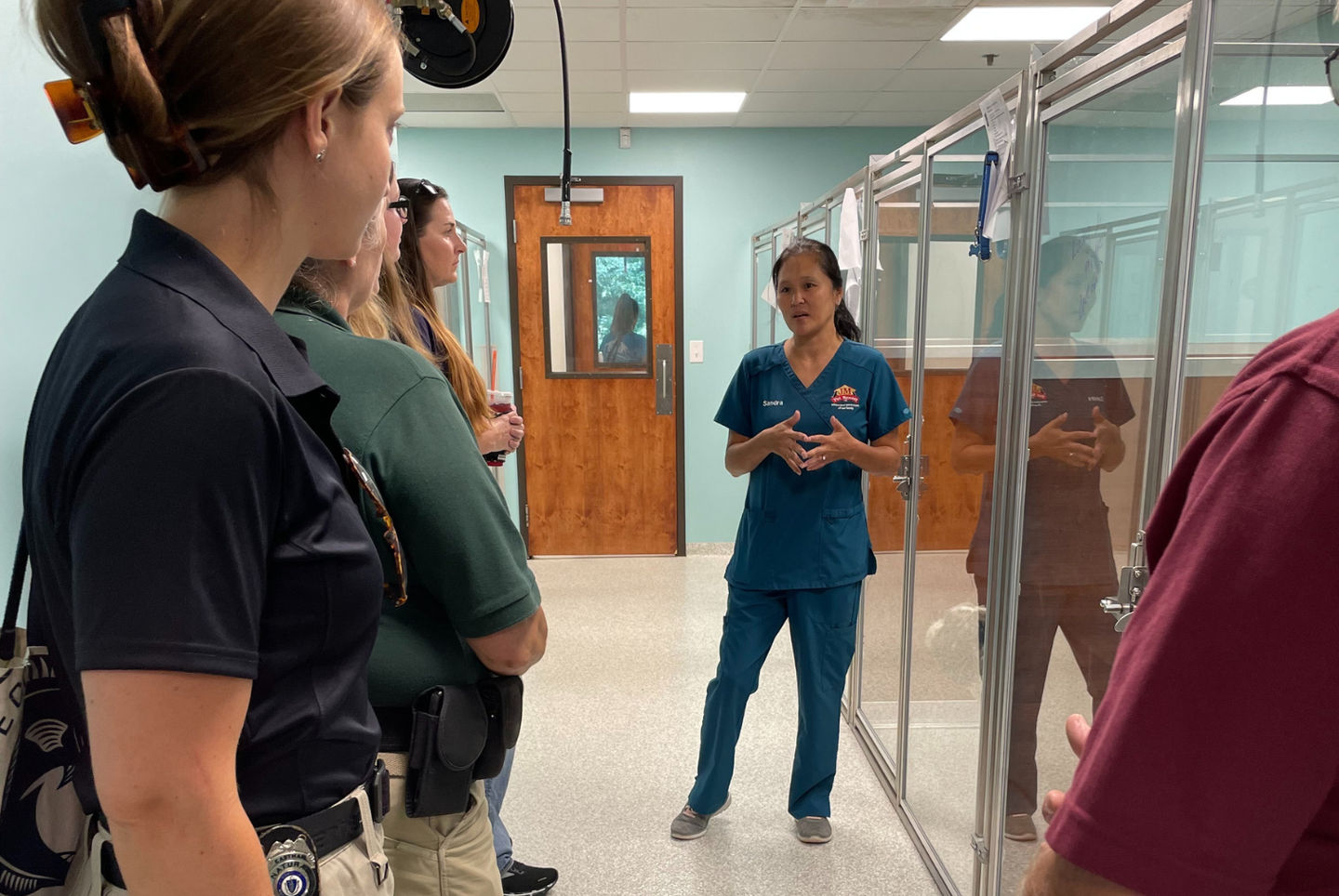 Sandra Vining, Vice President of JM Pet Resort, gives a tour of the facility to visiting Animal Control Officers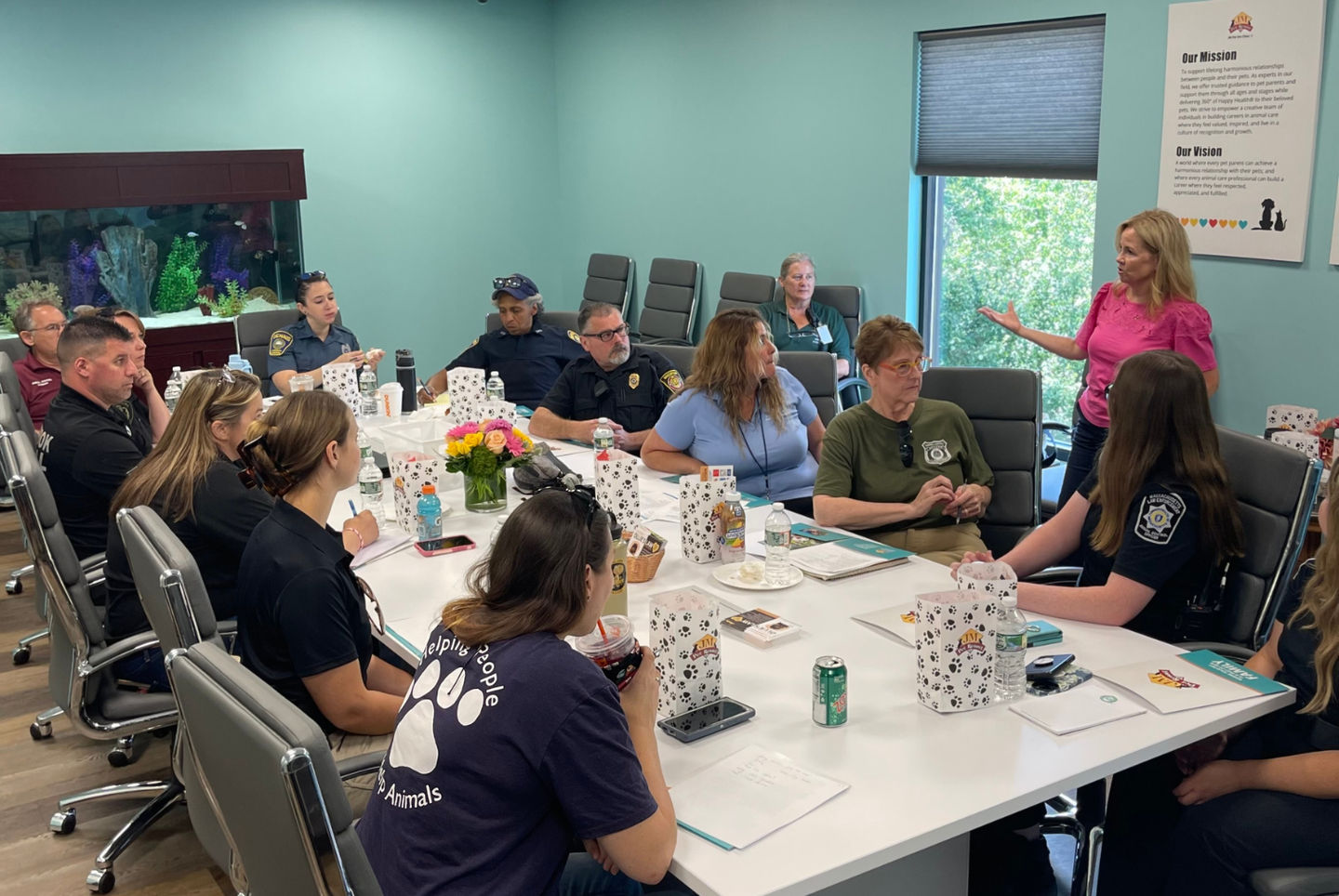 Animal Control Officers hear from Robin Frechette on why State Representative Brian Ashe supports Ollie's Law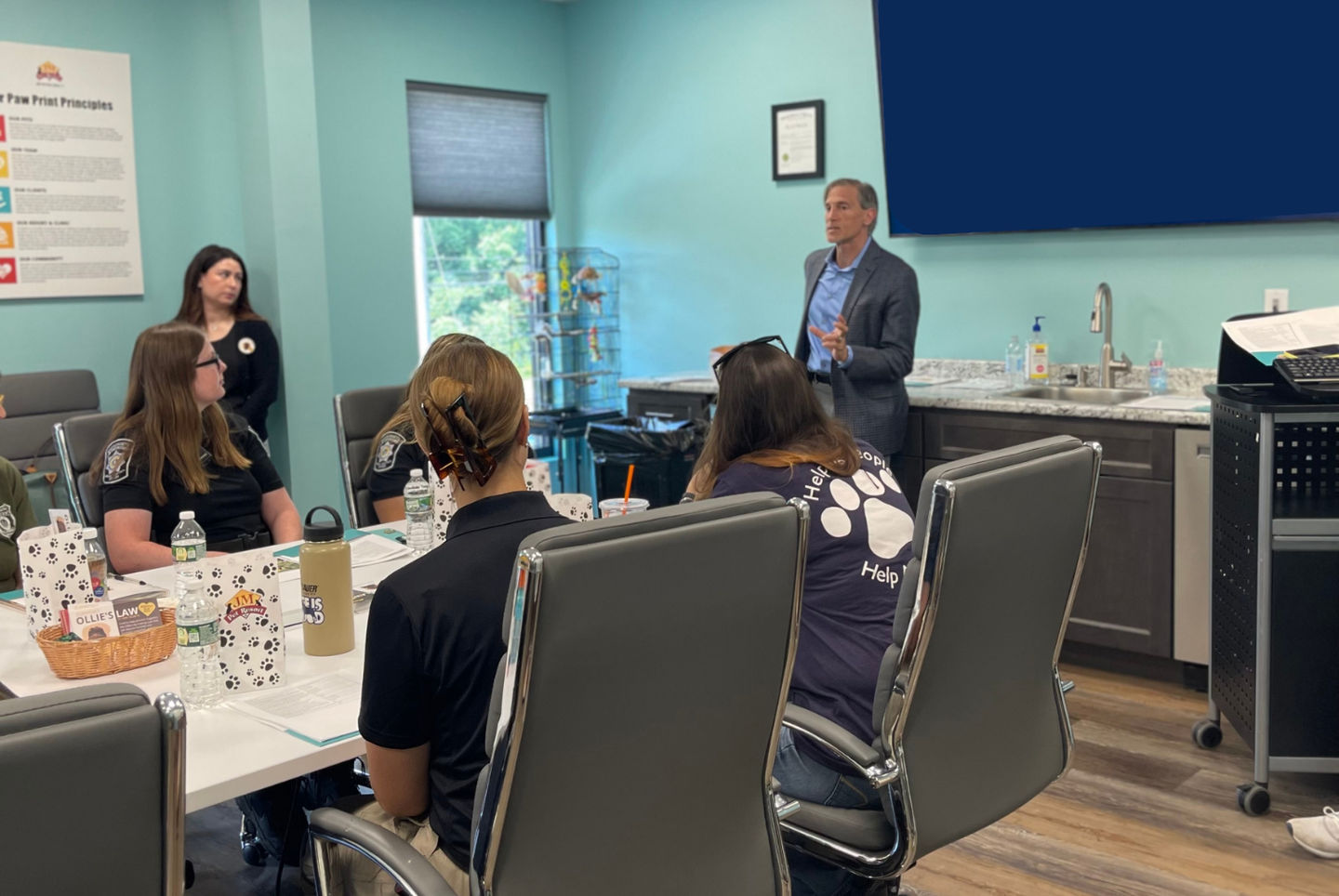 Jeremy Cohen, of Boston Dog Lawyers, speaks about how Ollie's Law will help protect pets, pet owners, and employees at doggy daycare and boarding facilities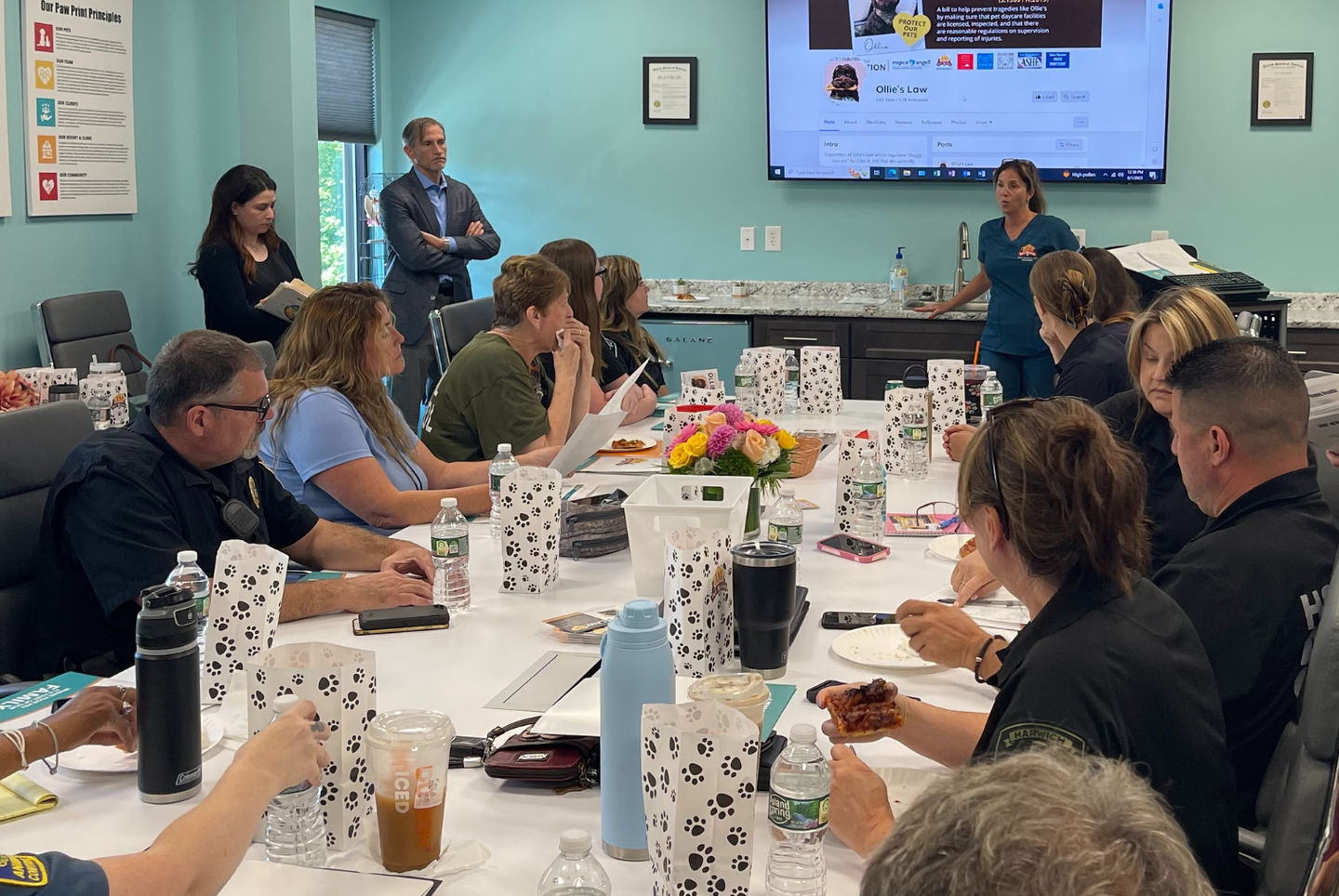 Jeni Mather, President and Founder of JM Pet Resort, and former Animal Control Officer, speaks to members of ACOAM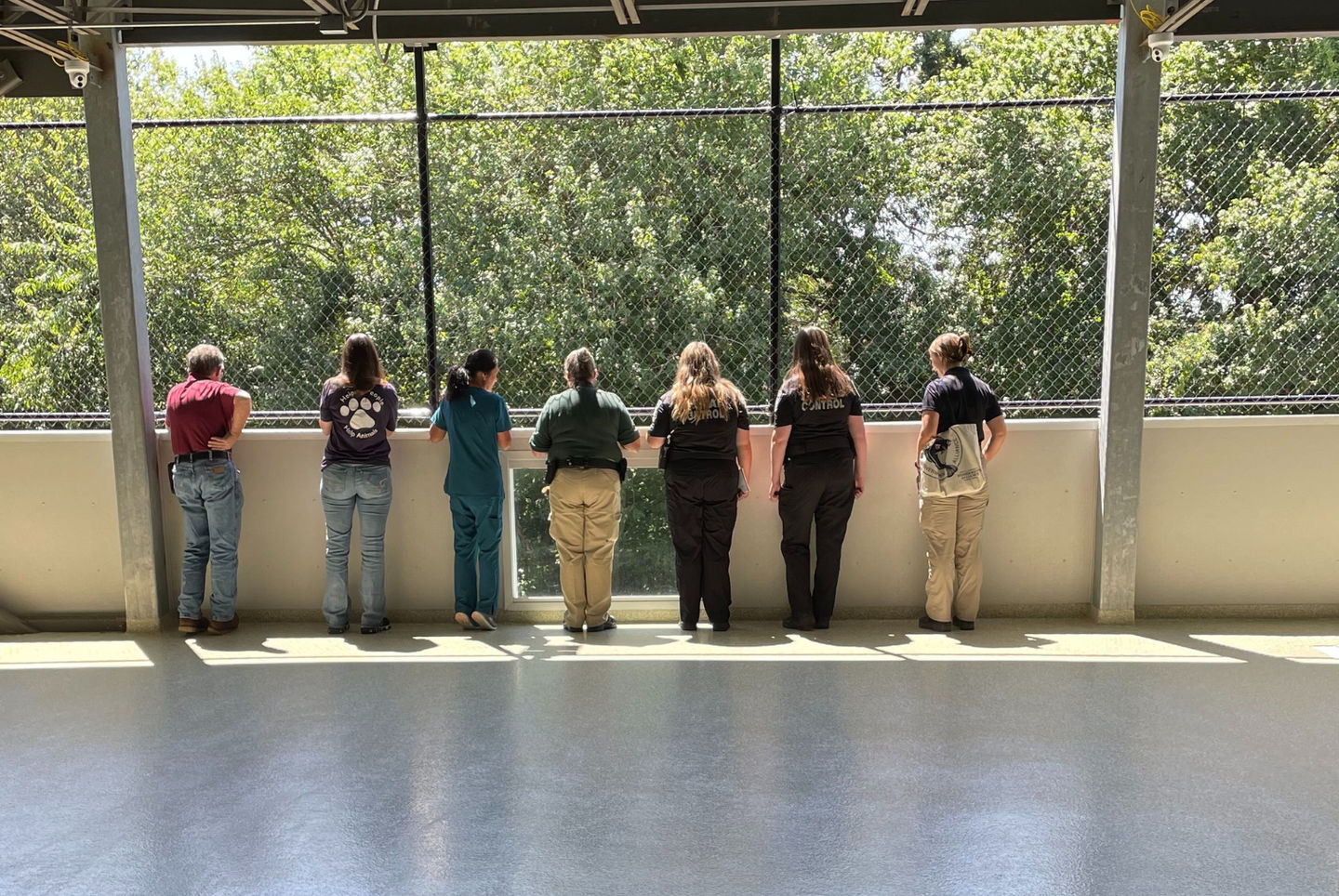 Looking out from indoor/outdoor PLAYtrain® Park at the PLAYtrain® yards below